This post first appeared on The Film Collaborative blog September 13, 2012
As this is the beginning of a new school year for universities and film schools, it might interest you to know that several film and media courses are opening up their syllabi to the outside world. They aren't just offering a public facing course description, but actually posting the assignments for their students and the reading materials being used in the class so that all may follow along regardless of where you are. No, isn't the same thing as receiving one on one attention in class, but then again that's a reason to pay tuition.
It is also interesting to see what tools instructors are using to communicate with students from wikis to Twitter to LiveJournal and Blogger to something I'd never heard of, Elgg, an open source social networking platform.
The following instructors are all on the cutting edge of the issues facing filmmakers right now; not the cameras or editing equipment or scriptwriting or film history, but the changing landscape of the business of entertainment and what it means to be an artist in the 21st century.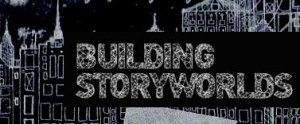 Columbia University Film Program
"Building StoryWorlds: the art, craft and biz of storytelling in 21c" taught by Lance Weiler (@lanceweiler on Twitter)
If you have been keeping up at all with latest trend in entertainment, you have probably heard the term Transmedia Storytelling. It was coined by MIT, now USC, professor Henry Jenkins in 2003 to describe  the technique of telling a single story or story experience across multiple platforms and formats using current digital technologies. Filmmaker Lance Weiler describes himself as a story architect, someone who creates not one linear tale, but an entire world for his characters to live in and for audiences to participate with them.
In his Columbia course, students and global collaborators will work together to  design, build, and produce an immersive storytelling experience. The whole process will be openly documented and released under a creative commons license in an attempt to gain a better understanding of what goes into creating immersive storytelling experiences.
To join in, follow this course curriculum and check his website Building Storyworlds to keep up with the happenings.

University of Central Florida 
Graduate course "Guerilla Film Marketing" taught by Randy Finch (@randyfinch on Twitter)
This is a graduate seminar about grass roots and non-traditional marketing strategies for film and media products. The emphasis is on unconventional and microbudget interactions with consumers. During the course, students will become familiar with how the new digital economy and social media tools are changing the landscape for filmmakers and other media producers in the twenty-first century. He requires the students to  blog about guerrilla marketing and create materials that they might actually use to market their own films or other media projects.
As Randy told me "I am fascinated by the possibilities for New World film education online. It's a large part of why I blog. In addition to making my own syllabi and assignments available online, occasionally I even write a post exploring how film education might evolve."
For a look at the syllabus, use this Google Doc and read Randy's blog for homework assignments.
Brown University
"Open Source Culture" taught by Mark Tribe (@marktribe on Twitter)
This course utilizes a wiki to disseminate the information. Where do we draw the line between sampling and stealing? What does it mean to call a urinal a work of art? This course explores the tension between artistic appropriation and intellectual property law, and considers recent efforts to use open source software as a model for cultural production. With the advent of digital culture spreading across the world at momentary speed, artists today need to be aware of the changing laws, consumer attitudes and ways in which creativity and communication are happening online. These changes affect business models in many industries, but very much in the entertainment industry where there have been attempts to curb audience access to online content deemed infringing on intellectual property.
For a look at the syllabus, go to this wiki page.
This one was taught in 2010 and I don't know the status of it now, but the syllabus still lives online…
Georgia Tech
"Digital Media and Participatory Culture" taught by Melanie E.S. Kohnen, Ph.D (@_mesk on Twitter)
The course is an exploration of how digital media is used to participate in various aspects of contemporary culture. Examinations of social networks on the internet specifically matters of privacy, identity, and community formation. Also covered, how digital media is used to participate in culture with a focus on remixing, mash-ups, digital video production, and other forms of transforming existing media texts and how copyright regulations impact remix cultures.
For a look at the syllabus and reading materials, go to this online pdf. Even if the class isn't actively being taught, there is so much one can do self directed.
If you like the look of that course, you may be interested in these on fan fiction and remix culture, .
If anyone would like to point out other film and media courses geared toward the 21st century filmmaker/artists being taught in an open method, please leave them and their URLs in the comments section.
Tags: Brown University, Columbia University, educational resources, film school, Georgia Tech, guerilla marketing, Lance Weiler, Mark Tribe, Melanie E.S. Kohnen, open source culture, participatory culture, Randy Finch, remix, storyworlds, University of Central Florida
Leave a Reply
You must be logged in to post a comment.