During the 2013 Sheffield Doc Festival, an international panel of documentary producers spoke about the different methods they use to find funding for their work. While 3 of the panelists were fortunate enough to come from countries that provide tax payer funded initiatives for filmmakers, producer Julie Goldman of Motto Pictures was the representative from the US. We do have some government funded programs for documentaries, but only for films that meet a certain criteria (ie, largely social good topics). I summarized some of the points Goldman brought up during the panel, a video of which has been posted on Youtube and runs about an hour and a half (link below if you have time to watch all of it).
-Goldman's company, Motto Pictures, has helped produce a wide range of award winning documentaries such as A Place at the Table, Buck, Ai WeiWei: Never Sorry and God Loves Uganda. The company was founded in 2009.
-Every film has a different funding model; from cobbling together multiple grants over years to commissions from major broadcasters. Buck was already fully financed from private investors when it came to the company. This is a rare occurrence.
-One of her biggest pieces of advice is about striking at the right funding moment. You have to be ready, agile and go for opportunities when they open up. If there is suddenly a new channel buying documentaries for their new programming initiative, you have to be there from day one because in a short time, they could be out of business, but you will have gotten some presale money at least. Be on the lookout for new funds opening up all the time.
-The projects she spoke most about were God Loves Uganda and Buck. God Loves Uganda was a labor of love project which took 3 years to piece together full financing. First, they applied and received money from Sundance Documentary Fund, Tribeca Gucci Documentary Fund, Tribeca All Access, Open Society (George Soros), tons of little bits of money,  but still had a huge gap in the budget. They proceeded production in stages with the small tranches of money and everyone was deferring and thinking they were never going to get paid. Finally, the project received money from ITVS Open Call, but it was complicated. ITVS is the funding body for independent films for public television in the US and they go to different strands such as POV and Independent Lens. They can become an equity investor and license the TV rights for 4 years. Because they are funded by the Corporation for Public Broadcasting, there are some things they are intransigent about and others where you can find flexibility. They take an equity position in the project and they have that going forward from any means of income the film has, not money from festival prizes, but any sales the film gets. While the God Loves Uganda made it through to the final round of the vetting process, they didn't end up getting the money at first. But at that time, one of the strands, Independent Lens, had discretionary funding for projects they were interested in and they gave some funding. It was still an ITVS project, but Independent Lens had an option for it, a first look. But Goldman thinks now that funding isn't available anymore. Again, look for those funding moments and be ready to strike. The final funding piece  came from the Ford Foundation.  They fund projects and you do not have to be a US citizen to apply for them. They have an incredibly helpful website and an initiative called Just Films which funds $10mil for films of a social justice nature each year for the next 5 years. It may or may not be renewed in future.
-In all grant inquiry letters, don't just explain how your film fits into a broad funding initiative. If it is a big organization, chances are they have branches that are concerned with specific issues and if your film touches on more than one of those (say, LGBT AND freedom of expression or minority rights), it helps the organization fulfill more than one mission and is more likely to receive funding because those divisions can work together and often share the funding resources. It could even result in getting more money.
-God Loves Uganda was an example of the miserable-while-you're-doing-it-but-happy-in-the-end funding model. The model for Buck was much happier. The film centers around Buck Brannaman who is the original horse whisperer. He runs well regarded training sessions and he is a really popular and loved figure in the horse owning world.  People wanted to give money to have this film made about him when the director decided she was going to do it so the film was funded by all private money by the time it came to Motto Pictures. Buck was released theatrically in the US in 2011 with revenue of over $4 million, which is a big hit for a documentary. But the exhibitors took 65% of that. Out of the 35% that goes back to the distributor, IFC Films, they took 25% out of that plus their costs for marketing and prints. And then the sales agent takes their cut. Basically, the film was in the red for a long time even though over 200,000 DVDs were sold. While DVDs rarely sell in this volume, the audience for the film was older and it was a really good DVD audience. It is only now (2013) that money is starting to come in to the producer.
-However, director Cindy Meehl had another source of revenue planned and it is VERY important to consider this. She planned these 3 camera shoots on beautiful Montana ranches of the horse clinics Brannaman holds annually to be used as footage in the film. It was very professionally captured footage. She then released extra footage as a 7 part DVD (at $30 a pop) for people who can't go to the clinics or want an introduction before they go. Those DVDs that she produced are selling like CRAZY and she is making a lot of money on them. It was very smart and her investors are getting their money back more quickly that way. If you have a subject matter that could have ancillary value to a lucrative niche market, it is very clever to plan for monetizing it outside of the feature film during development and while in production.  Said Goldman, "At the time, we shrugged and thought, whatever. We weren't horse people so we didn't understand or have faith in it. She had total faith in it and she was right."
-The final model, if you're lucky enough to win it, is commissioning. A big entity like HBO or Participant Media will pay you a fee to make a film for them and they own the film.  You will never see another penny other than your fee and you had better not go over budget. This model is almost exclusively for the well established documentary filmmaker.
-The panel only briefly touched on a new model, crowdfunding. Only the producers from Canada and the US had any experience with it and felt that the amount of work involved in running a campaign is grossly underestimated. But the point was raised that funding and distribution are moving from the institutional to the social and increasingly audiences are taking their recommendations from friends and those they trust.  It stands to reason they will also pay, either to create or to see films that are made by filmmakers they like and trust. For now, crowdfunding of documentary is mainly working for those who don't have big production budgets, but do have either name recognition or issue recognition to tap into an existing audience.
Other funding bodies that documentary makers should be aware of include:
For the full Sheffield DocFest panel including explanations from producers from Canada, UK and Netherlands, watch the video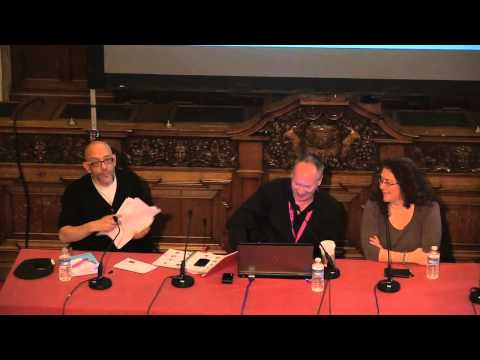 Tags: Buck, crowdfunding, Ford Foundation, funding models for documentaries, God Loves Uganda, Independent Lens, ITVS, Julie Goldman, Just Films, Motto Pictures, Open Society, POV, Sheffield DocFest, Sundance Documentary Fund, Tribeca All Access Fund, Tribeca Gucci Documentary Fund
Leave a Reply
You must be logged in to post a comment.