It makes sense doesn't it? Word of mouth doesn't travel without a personal network of supporters, however small. For some reason, there is a misconception that free money just rolls in when a crowdfunding initiative is launched, despite the fact that there are many, many case studies available online (for FREE) from people who ran successful campaigns and report that it was very difficult work. Widening the audience is one benefit of a campaign, but you have to start from somewhere in order to widen out.
In a short clip I did with Film Courage, I talk about why crowdfunding may not be for everyone and the limitations one will encounter if not very active online.
An aspect of a crowdfunding campaign that isn't as apparent as money, is building up a sizable contact list of engaged supporters. I can't tell you how crucial this is not just to the one project, but to ALL of your future as a filmmaker. Developing and maintaining a database of personal contact details is invaluable because they have given permission (and expressed an interest in) for future communication from you. This list should be guarded with your life and not relinquished to any third party! It shows the trust people have put in your talent and in you as a person, a trust difficult to gain that can easily be destroyed. This list should never been taken lightly or sold/given away for short term gain (besides, it goes against CAN SPAM Act regulations unless each recipient has been given clear and conspicuous notice that his or her e-mail address will be shared with third parties for marketing purposes. Who would agree to that?).
While there are certainly companies and individuals asking to be hired to crowdfund for artists, I think skipping over the crucial step of putting in the personal work it takes to gain trust is missing by employing this tactic exclusively. Social media channels are truly a gift and an opportunity we have been given to get closer to our audience, to have a deeper and more personal connection through our work. It breeds loyalty, instead of disposability. Also, the ability to know that our work touches people and matters to people can keep you going when it seems the world is full of rejection or self doubt. Gathering a team to help is advisable (in all aspects of filmmaking), but allowing only the team (or worse, an uninvolved 3rd party) to have contact with your supporters is a mistake.
It is time that artists come to terms with the fact that the age of the bubble (where creation takes place only in private) has come to an end. The audience wants to feel close to the art and its creator. This isn't new really, fan clubs have existed for decades, but now that closeness comes in Tweets, Facebook posts, blog posts, podcasts, videos, Pinterest boards  etc. and the ability to have a dialog directly. Make an effort personally to reach out to your audience, even get to know them by name, and you will see that effort come back to you in artistically, financially and personally beneficial ways.
This post originally appeared on The Film Collaborative blog.
To coincide with 2 large events of interest to the cross platform storyteller happening this week, London's Power to the Pixel and Los Angeles' Storyworld Conference, I wrote up this case study of a cross platform project that was featured on the Storycode site. For the visual learners, there is a video of the presentation at the bottom of post, but it does run over an hour and a half.
Cross platform case study from Canada
Jay Bennett, VP of Digital/Creative Director, Smokebomb Entertainment, Toronto
Project: Totally Amp'd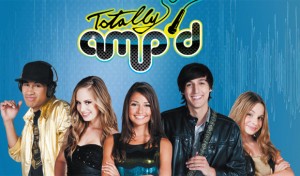 Totally Amp'd is a mobile-only (Apple devices) series created by Smokebomb Entertainment and  the first App of its kind for the underserved tween  (ages 8-14) mobile entertainment market. Telling the story of five talented teenagers who are brought together to become the next big pop group, Totally Amp'd comprises a 10-appisode live-action musical comedy series, an original soundtrack, and a suite of interactive activities designed to fully immerse kids in the action.
Intent:
To make an episodic show inside of an app which would incorporate all sorts of interactive elements including  music creation, movie editing and fashion design. Also, to experiment with the idea "We are the broadcaster" and see if it is possible to bypass traditional television gatekeepers and connect directly to the audience.
Funding:
Production funding came via the Canadian Media Fund Experimental Stream which supports the creation of innovative, interactive digital media content and software developed for commercial potential by the Canadian media industry or for public use by Canadians. Grant award was less than one million dollars (CAD) of which the video production budget was by far the majority of the budget, around $500K. The app technical development fell between $50-$100K. With an inhouse team this could have been lower, but they used a third party developer.
Audience demographic:
They intended the series to target 8-12 year old girls and focus on music and performance, capturing the American Idol/Glee set. Aim was to create the show for an older girl, a 14 year old, because then the 8-12 year olds will watch.
Background of the team:
Bennett came up through the ranks of digital advertising agencies conceiving and executing ARGs, puzzles and finding code in URLs to tell stories. He disagrees with that approach to storytelling because he sees himself as the average user, not someone used to looking for the magic rabbit hole in a story.  He wanted  the story to be more accessible through video because it is a medium the average user understands. While he believes that there are opportunities for deeper content, he would rather spend the majority of the budget on video content and much less on puzzles, games, ARG type experiences.
Smokebomb Entertainment is the digital division of Shaftesbury Productions, a leading Canadian TV producer.  Totally Amp'd is their first completely original project to launch.
They brought in Karen McClellan as head writer with experience in the children's TV market as well as writers from from the young adult market to give the scripts a more mature feel. The cast they chose played within a year of their real ages, not having 22 year olds play 17, in order to have more authenticity.
Development phase:
During research, they found a lack of good content apps aimed at the female tween demographic.
Though they started out thinking conventionally ( a webseries with some interactivity as an app), the research showed that most people now have smartphones and tablets or would have them very soon so they decided to take the whole project into the app space and viewable on a mobile device.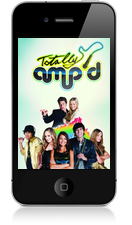 They only developed the project  for Apple products (iPod touch, iPad, iPhone) because they felt that when people think app, they think Apple iTunes. There was a revenue incentive as well since people expect online content to be free of charge, but they don't expect all apps to be free and they are used to paying via their iTunes account for music and other downloads. This would alleviate the need to access another way (like via credit card or Paypal) for people to pay.
Since music was the major focus of the project, they brought in a professional composer who could create pop music worthy of its own release. Kids would know if they were being given "adult" music masking as teen pop and they wanted the music to be a revenue generator so it had to be top notch.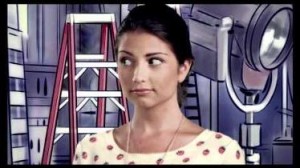 Also, they brought in a production designer to give the set a look that would be remarkable on a small screen. The result looked half real life, half cartoon, a bit like rotoscope. Elements of the set were painted on real glass plates that cost about $2400 a piece to create, though much of the time they ended up using green screen and VFX which was even more expensive.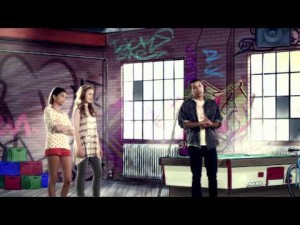 Thinking through each component of the app:
This an episodic show about the musical arts so possible  elements to include would be music, music videos, fashion, community where kids could discuss the content together, an avatar to use in the community, game to build up points within the community, unique production design that would make the project stand out and sharability on social platforms.
But legal concerns got in the way of building a community forum because legally they needed a moderation team, especially for kids. Big broadcasters have this, but if you don't have that support (YOU  are the broadcaster, remember?), do you have the resources to do it? Also, the avatar idea was dropped because of the cost of building an avatar generating system, the game idea was dropped due to budget concerns and as was social sharing because of deadline issues and the ability of the app to handle pushing out that size of a file to a Facebook or Twitter page. Dropping social sharing was probably a mistake when it came to promotion.
Typical shoot for the video episodes:
6 days, 16 cast members, 72 shooting pages, 58 minutes of content, 10 episodes with an average of 5 minutes per episode, 2 RED cameras, 7 music videos.
The App
They intentionally tried to keep the app simple to use due to budget constraints and due to the age of the audience who could be as young as 5 years old. They needed something very intuitive.  The app encompassed both the episodes and  the activities. At the end of each episode, a new piece of video content would unlock.
There is a music studio with all the songs from the episode. One could remix the songs with a choice of different instruments, save the creations and play them back, record your own voice singing the songs so you could be the star.
There is a video studio for the music videos.  There are 3 screens showing different camera angles of a video  and the viewer can edit them however they want.  Editing was just a series of touching the screen and the app would remember the sequence and play it back.
Finally, the design studio for the fashions. Viewer is given the blank outline of the outfit and given a choice of material patterns, colors, decorations then dress the characters from the show, a la digital paper dolls, and put them in a scene background from the show. The creations can be saved and turned into wallpapers, screen savers etc.
Deployment strategy
With file sizes like this, wifi connection is a necessity. Although putting  the whole app out at once would be a huge download issue, the team thought making kids wait episode by episode would tax their patience. The file size was one gigabyte, about a 20-30 minute wait for download on iTunes.
They put out the first episode for free on Youtube, but to get the whole package, the viewer had to pay one price and it opened the whole app with all of the episodes and special content.
Deciding on a price point
Free was out of the question and 99 cents still felt like free. It would be difficult to raise the price if it started at 99 cents. For an hour's worth of content plus the extra material, the price they settled on was $4.99. That is the median price to rent a movie on iTunes and so it would be a comfortable price point for most consumers.
Building the Audience
There was a 2 prong strategy; getting attention from the industry/technology audience and from kids/parents of kids who would actually use the app. Parents often browse the app store looking for interesting content for their kids. Since Smokebomb was the broadcaster, they had to be the promoter too.
For industry attention, they used the in house Shaftesbury Media publicity department.  In the US, they used a company called One PR.
They received lots of coverage from industry press and business press.
For kids/parents attention, they enlisted the help of mommy bloggers. They did a press junket for a group of 8 influential mommy bloggers to come to Toronto to watch a shoot, see the making of the videos etc. This cost about $15000, but in hindsight  they would have bought Facebook ads instead.  Not that the goodwill hurt, but to spend that money to get these people to write reviews, it is likely they would have written about it for free just like any other journalist.
For social media interaction they worked with Fisheye Corporation. Tools they utilized included Facebook, Twitter, Tumblr, Youtube, own website with videos and contests.
Created 73 video assets of behind the scenes of production in order to get viewers to know the characters more intimately with backstories and explanations on using the app and what the show would be like. This was slowly dripped out in the lead up to launch.
The team released iPhone recorded videos of music recording sessions, dance rehearsals, cast doing demos of the app to show how it worked. Prize giveaways consisted of asking viewers to record themselves singing one of the songs and uploading it to the Facebook page for a chance to win.  They Livestreamed the launch party on Facebook so the audience could join in and people could ask questions with the cast standing in front of the camera to answer. A street team was deployed at local pop concerts happening in Toronto with flyers promoting the show. This was all done in the lead up to launch day in order to build up audience anticipation.
Partnered with Wattpad, a young adult fiction site where amateur writers upload their stories without pay, but some writers have millions and millions of followers. They worked with 5 of the most popular writers and gave each a character from the story and had them write a backstory that did not previously exist. All the backstories led up to the first episode the viewer would see.
They promoted it on Wattpad with character videos explaining what the app was, encouraging viewers to read the backstory on Wattpad, and promoting the launch date and Facebook page.
Deployment implementation
Episode one was released for free on Youtube on Christmas Day.  They released lots of teaser clips in the lead up to the first episode release.  The clips were featured on AOL Kids which helped the episode reach 320K views.  Official launch was January 26, 2012.
There is a risk with doing this. If the audience doesn't like the first episode, you've lost them forever.
Successes
-the project actually launched, and on time
-strong press and critical praise
-industry praise from broadcasters at MIPCOM who said they beat Disney and Nickelodeon to the punch
-Disney wanted to buy the app, but Smokebomb said no because when that offer came, the project hadn't launched yet and they wanted to see it through.  Also, they would have to get agreement from each department head involved at Disney (broadcast, interactive, music etc) and that is very arduous and would take another year to sort out. Also, Disney would own it, there is no revenue share with them.  In other words, you get one check and any revenue success Disney has on it (or lack thereof) belongs to Disney.
-launched to great success with fans asking for more! This was a mixed blessing because there wasn't anything else being created in the immediate future.
Lessons learned
-Danger of the all at once release strategy
After 3 hours, the viewers had burned through all the content and wanted more. The danger in allowing binge viewing is all the build up dissipates in a short amount of time. If they had dripped out the episodes, which they hadn't wanted to do because they felt the audience wouldn't be patient, then they could have done more to stoke up the conversations in between episode releases and that would have taken 10 weeks to do, instead of 3 hours. As it was, the audience ate up all the episodes and then were gone to the next thing.
-Danger of the file size
Since the app was 1 gig and had a 30 minute download time, some may have given up before the download finished.
-Being the megaphone
In doing this without a broadcaster's support, it is exceedingly difficult to reach millions and millions of people on your own, only a fraction of whom will actually buy and download. Undeniably, once the initial launch efforts were finished, the download count dropped. People are still downloading, but nowhere near what they were at the start. This is all down to having a strong and sustained publicity effort going. Once the promotional budget was spent and efforts ceased, the buying went down.
-Selling the rights in other territories
[editor's note: I know many creators count on the revenue stream they are sure to get from broadcasters/distributors] No broadcaster cares about buying the rights to 10 episodes of a webseries. They will only get 10 weeks out of it on TV and then the show is finished. They don't want to work at building an audience for only 10 episodes, they want 100 episodes. Same for selling broadcast TV syndication, you can't sell a show with less than 3 seasons.
Axing the social sharing capability
By axing the social sharing due to budget, they also disabled the ability for free messaging by the viewers to spread their efforts wider. The purpose of social networking is sharing content you are excited about and they didn't enable an easy way to do that. People did find a way around it, but it could have been done more easily.
Next steps based on those lessons
-Perhaps strip out the episodes and put them online for free to build the widest audience possible.  Once you have that large audience, find opportunities to sell either advertising or to a broadcaster who will commission more episodes. [editors note: while this theoretically could work, many, many Youtube channels are already devoted to doing this and very few have accomplished it].
-Perhaps keep the interactivity portions to sell as an app, making the app shorter to download and cheaper, like 99 cents. With many more people watching, it is a much bigger pool of people to ask to buy a 99 cent download app.
-Extend the experience without making new content, new shows, because the production fund is spent so there is no money to make anything new. Perhaps they could build a website as a portal to discovery of other content already available online. Examples: existing unknown bands with the same music sensibility as the show and highlighting them; calls for UGC content as well.
-Look at this project as a pilot for TV or web series for a broadcaster. Truthfully, broadcasting is still where the audience is in a mass way. Are there viral hits on Youtube, yes  a few, but the mass audience isn't consistently on Youtube yet. The ultimate goal is TV, mobile, games, live event, the whole package.
Questions to consider
-How do you create an app that massively catches on when tons of people are creating new things and uploading them every day?
-Once your app is found, how do you keep people engaged from week to week? What mechanisms are you creating to keep your project top of mind?
Thanks to Jay Bennett for being candid about Smokebomb's process and outcomes. For the video of his presentation including the post Q&A session, watch this
Many indie filmmakers, especially documentary filmmakers, hear this phrase from potential sales agents and distributors as a reason the film isn't picked up for distribution. Let's dissect what they are really saying.
It will take us too much time, effort, and money to reach this audience.
You may know, through spending many years making the film, that there IS an audience for it, but is that audience big enough to rake in the revenue needed by these facilitators? Distribution companies deal with a catalog of films for many years and each one needs some sort of attention if the title is to sell. Many times they use the same methods for every title because those processes and staff have been in place for a long time. They aren't going to hire new staff and formulate new processes just to deal with one title.
The less time, effort and money they can spend on getting an audience or a subdistributor interested in buying, the better for them. They also have normal business overhead to pay like their employees, their office space, legal costs, utilities etc, which you,  the filmmaker, may not have, to the same financial degree, on a daily basis. So the revenue from each film they need to sustain themselves in business, not to mention your cut of this, needs to add up with minimal outlay. Challenging films or films with a limited audience are not attractive for this reason because too much effort will be involved to reach those people for the small amount of revenue that audience represents.
Often, I read news stories of films that are raising money and heading into direct distribution because mainstream distributors passed on the title and the stories are usually tinged with indignance, "they didn't believe in our film" kind of sentiment. It is simply a business decision that the film doesn't make financial sense for the distributor. It may make great financial sense for the filmmaker to self distribute though.
With this knowledge, filmmakers who have prepared their distribution strategy, allocated a budget/staff and do have a clearly defined core audience will be in a better position to incorporate direct distribution because they know exactly who supports their work, how to reach them and the outlets they should use for sales. Those outlets may be organizational/educational screenings and merchandise sales, specialist websites for affiliate sales, their own website, digital outlets that can be accessed either directly or through an aggregator on a non exclusive basis, and incorporating tools like Tugg or Gathr to book conventional theatrical screenings. These will all generate revenue that goes to the filmmaker without excessive percentages taken and waiting months (or years) for a check. Planning and preparation is needed for this during the preproduction/production phase at least.
Most films of quality do have an audience, but they may not have the masses required by a distribution company. There is no longer a need or an excuse to put a film on the shelf because a company didn't acquire it.
As you may know, I recently gave the keynote address to the Federation of European Directors General Assembly in Copenhagen. The Assembly's event was chronicled in the Danish Film Directors' quarterly magazine Take 58 in July. Below is an excerpt from a longer article about my participation there. Thanks to all who attended the event.
8 questions for Sheri Candler
"These answers are being written from the perspective that all directors should be dedicated to building up a long term base of supporters for all of their work." -Sheri Candler
TAKE: Should I keep my Facebook identity as a director seperate from my identity as a private person? Meaning should I have two separate pages?
SHERI: Yes, I would advise having a separate professional Facebook page for all of your professional work and leaving those privacy settings as open as possible. Your private profile should be for your actual friends, family and colleagues and the place where you put your personal thoughts and interests and that will have privacy settings optimized to only be shown to those people. While your family and friends may also want to keep up with your professional endeavors, not all of them will and having a professional page allows you to have a place to connect with your fanbase and industry people regarding your work.
TAKE:At what stage should you know the title of your film? Can you change title later on? How do you avoid misleading people, if the film changes radically after the title has been set?
SHERI: Some film titles change as soon as a distributor takes hold of it, so I wouldn't be too worried about changing a title because your true fans, your community that you have been building for your work over time, will be the first to know the reasons for the change. Remember, you are building up a relationship with these people, they aren't being gathered for the one film. If the title changes (and I highly recommend doing a thorough title search before you set one so that it doesn't need to be changed later), only those who have not been with you all during the production of the project will come to know the new title.
Same thing for branding on the film. In fact, this is a way to include the supporters, take a poll onwhich title they like or on which key art they like. American director Edward Burns held a poster contest for his film Newlyweds. He asked his fans to contribute their designs and they voted on the most popular one. It became the poster for the film. American director Tiffany Shlain did the same for her documentary Connected. Don't treat your supporters as strangers, keep them informed of what is happening with the project and why.

TAKE: What sites should a director have as a minimum? (FB, twitter, website, blog?)
SHERI: First, you must have a website, that is imperative. It is the only true piece of internet real estate you own and control. Every other platform belongs to a third party that may change the rules, go  out of business or lock you out whenever they like and that would completely cut you off from your supporters if you depended solely on those for communication. I think directors should choose the social channels they feel most comfortable using and where those which would be most interested in their work frequent. For now, that is probably Facebook (with 900 million users, of course!) and maybe Twitter. But it could also be Pinterest, MySpace, Tumblr etc.

TAKE:  How and where do I use my time best online if I want to engage with my audience? It seems that one can use a lot of time on many different things, but where does it have the most impact?
SHERI: The answer to this would be as unique as the audience members. The thing to realize is there are no set rules, there is no magic formula. This is all going to be an experiment and trying out services to gauge a fit. Online tools are just that, tools. It is all in how you use them and you only get out of them what you put in. The more time you spend connecting with others, the more you will get out of the process.
I would say you need an outlet to speak from, which typically means a blog on your website. That blog should be updated weekly, ideally, so that you keep the site higher in search results and it feeds your social channels. Blog pieces do not have to be long, only 500-700 words, and they should primarily be devoted to sharing valuable information and insights, not self promotion.
 TAKE How do you see the relationship between engaging your audience in a dialogue and the ability to earn money on having the dialogue? Does one exclude the other?    
SHERI: I want all not to start this process with the eye for making money as their foremost thought. It is like saying you are making friends with people only to see how much money you can get out of the relationship. A relationship that starts that way is doomed to fail because people can feel it, feel the insincerity.
The mindset you must start with is "I am going to find my 'people,' the ones who would care the most for my art." And you truly have to believe that. The Latin saying "Do ut des" (I give so that
you will give) is extremely valid in the virtual world, in fact it is expected. The online world rewards generosity, not selfishness. Directors who already have fans or a reputation would actually find this process easier because their fans are eager to connect. But oddly, those directors are the least likely to do this right now. I think we will either see a change in that mindset or a loss of relevance for those directors because people are very fickle and they are getting very used to having personal contact with creators. Those who continue to ignore their fans will find themselves ignored in favor of artists who understand this new mindset. Money and fame are by products of relationship building, so concentrate less on those things and
more on the relationship.
TAKE: How private or personal do you feel that one should be? Many of us directors are shy people and only used to talking to journalists about our films before a release.
SHERI: One would think it will be easier to speak to real people than to journalists! I don't think you need to share intimate details about your personal life, but I do think we should see some sort of personality behind the communication efforts. All directors are creative people with lots to say to the world. If you aren't, then perhaps you should rethink your occupation. Writing a blog isn't journalistic writing, it is personal writing about your inspirations, helpful suggestions, recommendations, personal commentary on events happening in the world. Something that lets the supporters know who you are as an artist. Like attracts like and ideally you will attract those who love the way you tell a story no matter what the story is. We want to see the essence of the real artist, not some sound bite "message" of the synopsis of the film.
TAKE: Can you give us inspiring examples of feature film directors that use social media to engage their audiences?
SHERI: YES! -American director Kevin Smith connects with his fans every day via Twitter and through his own channels at smodcast.com He is really an example of a director who tells stories in lots of mediums, not just film. A true storyteller.
British actor/screenwriter/director Stephen Fry is also very accomplished at using social channels as well as his own website to connect to his fans.
www.stephenfry.com
-Documentary filmmaker Errol Morris also has his own website and social channels www.errolmorris.com
-David Lynch uses Twitter, his tweets totally correspond to who he is as a storyteller.
www.davidlynch.com
I would say though that Morris and Lynch do not do a great job at having conversations with their audience, their sites and social channels seem very one sided to me.
-British director Duncan Jones uses Twitter to the extreme (several times a day!) and actually does talk with his followers.
TAKE: What do you mean when you say that a director should be a tribe leader? Does that go for all directors?
SHERI: The tribe idea originates with Seth Godin who wrote a book in 2009 called Tribes-We Need You to Lead Us. It is this idea of finding and connecting with like minded people and leading them to a place they want to go.
The means to do this are universally available to everyone now with the internet, so it isn't based on geographical location or on having large financial resources to advertise your way into an audience. Advertising has been the default way of building an audience for films for a long time, it is costly and wasteful as you have to start again with each film. The tribe building idea is a totally different way of doing this and it is meant to be more cost efficient and longer lasting for the artist. You don't need to sell people on the fact that they want to connect (to art, to other people, to a movement) because that is inherent human nature, we want to connect to like minded people. So as a film director, or a storyteller, your job is to connect those like minded people through a platform that you create (your website, blog, or whatever tool you choose) and eliminate the need for them to find each other on their own. They connect through you as the artist and through your work. You are the leader of the tribe and you make your work only for them. They, in turn, bring in their friends, also like minded people, and that widens the reach of your work. Your job is only to make work and nurture those people, delight those people. They will bring the others aboard.
This is a very radical idea though. When the artist is in charge of her tribe, where does that leave the chain of middlemen that once were so important to reach the mass? Mass reach is becoming less and less important because it isn't sustainable. Audiences for entertainment are becoming fractured and very focused about how they spend their time given the multitude of options for entertainment. Advertising is becoming much less important, but social connections, trust building are becoming more important. People are trusting recommendations from their personal connections much more than advertising blasts. If you have no personal relationship with your audience, your work will be lost in the multitude of other viewing options.
My thanks to Birgitte Staermose for conducting this interview and the the FERA organization for having me in Copenhagen.
When preparing to directly contact your niche, it is imperative that you know more than a little bit about them. I usually tell filmmakers that it will be easier and work faster if they are already embedded in the community of the niche audience because the trust factor will already be there. You won't be a stranger coming out of nowhere spamming an established group because you are already a member of that group.
If you don't have this kind of trust built up, you would be better off to hire or work through someone who does have this trust. In this instance, I am not solely talking about hiring "agencies" as they usually do not have a trust factor built up either. A spammer is a spammer whether you do it yourself or whether you hire someone else to do it. Ideally when contact is made, it is done through mutual respect and a genuine sense that what you have to say is going to be something they absolutely want to know about. We all start as strangers at first meeting until we work out whether there is a common interest that will continue to bring us together. This recognition and trust takes time to build so you can't wait to do this at the moment when you have something to sell; the moment when you need "butts in seats." Start early, at least 6-8 months before you want them to take action.
In the case of the Joffrey project, I am not embedded in the ballet community any longer, but I did study the art for 16 years. I felt like I had a handle on what that community cares about and I also have a love for the subject covered in the film. Those attributes have helped me make a credible connection to the audience even though I am no longer a dancer. As I said in the last post, I also read and researched further on the subject to gain the knowledge I would need to speak to this audience directly.
I also knew from past experience that when I started the outreach, people who were interested would want to know when they could see the film. Here is where I reshape my earlier statements on building audience at script stage. I think at script stage you do need to have a very clear audience identified and know how you will reach them, what tools you will use, what delivery method is going to work best for this audience and a budget to accomplish this, but until you can give a fairly definite date that the film will be ready for viewing, hold off on the direct outreach until you have a premiere date. This doesn't mean that you won't have a website. I think everyone should have one from the production company to the writer, the director, the cinematographer…everyone benefits from having their own place on the internet from which to reach an audience for their art, no matter what that art is. But you won't see a lot of momentum with an audience for your film if your project is very far from being released or its release date is completely unclear. Ideally, you will know when that date will be around 6-8 months from release.
For us, we only had 4 months before premiere so everything was developed at warp speed! We set about getting a website designed, key art developed and a trailer edited ASAP. Why? When starting to contact people directly, you need something to show them. Something that proves the project is real and information can be found about it online.  Part of my work involved considering website navigation and the kind of functionality I wanted the site to have from the "pull" perspective. Instead of pushing our messages out, we hoped to PULL people back to the site again and again and that means keeping a constant flow of new material there. We also needed an identity for the film, the image that would be instantly recognizable as our film. This is the key artwork. But it takes a while to get just the right look and we couldn't postpone the launch of the website. We were literally starting with NOTHING, but the film. We needed a compelling trailer and I needed a link to a website to show the alumni I was contacting, otherwise it just wouldn't look like a "real" project, something about to premiere.  We decided on some temporary art design and launched a blog platform as soon as possible and I had to start coming up with content for it.
The initial website and trailer came together within about 3 weeks and I started contacting alumni to tell them about the film. I sent them a link to the initial trailer and told them about what we had planned for the world premiere.  That was it initially, no call to action, just information. Some responded immediately, some took a little while, some never came back at all. It isn't worth spending time to continually contact those who don't respond, they have shown you their interest by the lack of response and sometimes it will take a word from someone close to them that they trust in order to see a response. Concentrate on the ones who do respond. Same philosophy when you are contacting organizations who don't know you; concentrate on the most enthusiastic and they can help you reach the ones who didn't respond. The more I talked to alumni, the more I got referrals to other alumni. The contact list expanded. Once they had responded favorably, I invited them to join our mailing list and social channels so that they could be kept informed of the film's progress and how to attend the premiere.
Remember, once you start down this path, you are forming a relationship with these people and that is a heavy responsibility. Great rewards can come from it, but they should not be viewed as disposable. That is probably the biggest misconception about this work. Audience building is relationship building and it is delicate work, not something to be turned over to heavy handed agencies or temporary interns, both largely see everything as disposable. Once you are touching people directly, it changes the whole dynamic of what audience awareness means. It used to mean faceless entities who reached an audience through a medium. You didn't know them really and they didn't know you really. Now, we can be in much more intimate contact and it can last much longer than just one "campaign." This is a good thing for a filmmaker who plans to make more than one film in her career and who has limited means to reach an audience.
Next post: using social channels and content marketing to keep up the audience attention
Much is said about the need to find your audience and present your project to them, but how does one go about it? I think the first thing that must be done is boil down the exact characteristics of the people who will be the MOST engaged, or what my friend Jon Reiss would call the Super Core and find them and start communicating with them. I want to share the information about how we accomplished this for my most recent project, a documentary film about the Joffrey Ballet entitled Joffrey: Mavericks of American Dance that I am working on with Jon Reiss' Hybrid Cinema. We started work in October 2011 for our premiere as the opening night film of the Dance on Camera Festival at Lincoln Center in January 2012.
Obviously, this film is for ballet fans, right? We could even go wider and say those interested in dance, or performing arts, or fine arts, or classical music and theater. Maybe even a gay niche, or luxury products or wine aficionados. It is typical thinking for most filmmakers I encounter and definitely it is for distributors, let's go for the widest audience possible! But we are dealing with a modest marketing and distribution budget, a very sparse crew (4-6 people)and reaching a wider audience was not realistically going to happen out of the gate. We needed to get more targeted, laser targeted, and then spread from there slowly.
It is my firm belief that if you are working with limited resources, you must "catch fire" with some small group first. Your "fire" will not be able to spread if there is no passionate group helping you do it. There is simply too much competition for an audience's time and attention and trying to reach wide from the start usually results in not much traction. Your few sparks will fizzle.
I could have started with the "ballet audience." But even that is fairly wide. Every city and town in America has a ballet school, maybe even a company. There are patrons of these ballet companies who attend performances. Many are former dancers or had dance training at some point in their lives. How can I reduce the target even further without being so narrow that the super core would only result in  2 people or so wide that I can't easily reach them?
The laser targeted group I settled on was the alumni of the Joffrey Ballet. They are numerous (at least several hundred),  they are spread out all over the country, many are in high level positions at other dance companies, and they have a deep, vested interest in seeing this film.  Every Joffrey alumnus that I have forged a relationship with is a very passionate supporter of Robert Joffrey and Gerald Arpino, the founders of the company and the main subjects of the film, and they want to see this film succeed. After all, it is also their story; a story about a very sacred and special time in their lives. Who can be more passionate than that? Now, who are they and where to find them? 20 or so of them are in the film, but what about the rest?
Luckily, a book was written by Sasha Anawaltin 1997 that had been meticulously researched. It included many names of dancers in the company as well as other associates. I read this book from cover to cover, underlining names, dates, footnotes about side stories etc. Also, the Gerald Arpino and Robert Joffrey Foundation had a list of names of alumni and some contact details. I also read 2 other books written by and about Joffrey dancers and made more notes. I started with these, making lists of years, who was in the company when, what happened to them if it was known and then got started on Google for more research.
With some names, I came up empty and some alumni are no longer with us, but in the end I did get a nice contact list together. It was also important to research who was connected to whom so I could plan for my circle to widen. Some Joffrey alumni went on to work with other choreographers, other dance companies and those connections could be useful to know for later help as we went into theatrical release in cities across America.
Next post: Preparing for contact.
I think those 2 words are starting to lose their meaning when talking about using social media to reach audiences. I am not offering another word because at the end of the day a word should only describe an idea of what you are truly doing and maybe THAT is the thing that is becoming lost in all of this talk. What are we truly saying when we use those words?
Engagement isn't a measurement from your Facebook or Youtube Insights, it isn't how many retweets you receive on Twitter. Connections aren't simply a number of followers and likes. In thinking about the traditional use of this word, your "connection" was someone who was willing to help you, someone who knew you, trusted you and vice versa.
Audiences are now delighted by communicating not with a "brand," but with a "face" or a person. This mindset shift in corporate America is very hard to make when they really never thought about the audiences actually being people…with faces beyond eyeballs. If they did think this way, would they really keep hitting that face with ads over and over again? Would the conversation be constantly one sided, "buy my stuff" " buy my stuff" "click here, and buy my stuff." That is the extent of the brand relationship with customers that the typical movie studio or distributor has now.
When I talk to you about creating a relationship with your audience that is long term, not just for one project, I really want you to think about what this means. The investment of time and creativity and energy this is going to take, not to boost "likes" on Facebook and follower numbers on Twitter, but to really draw people to what you are doing and hold them there willingly. Using these great new tools is just a newer way of communicating, but the communication itself isn't new. We as humans have always communicated with each other and naturally gravitated to those with similar interests and it is the same now.
That is also an important distinction. Audiences may not only want to communicate with you, but also with like minded people AROUND you and your work. In this way, brands can benefit from heavily using social tools. They don't have to be the sole source of communication, they can provide a place and content that enables "fans" to speak to each other about the brand. Be careful when you are using these tools only to speak about yourself, but also don't  become so enamored of people "buzzing" about you and your work that you never step into the conversation. I see this a lot with brands that happily RT positive tweets but almost never get into conversations.
Main thing to takeaway here is not the fact that you are trying to pump up "scores" or numbers on your channels. You are trying to touch people using electronic means and this will take time, effort, energy and a lot of patience. There's no quick fix, no magic solutions, no one  "engagement tool" that is going to make these relationships last. For those who don't have these attributes (time, energy etc), this isn't going to work and you will have an increasingly difficult time gaining an audience in the future.